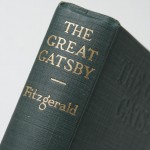 In chapters six, we actually learn who Gatsby is – and will never be.
Tom Buchanan, the husband we all love to despise, arrives with fellow aristocrats on horseback at Gatsby's. He is oblivious to the rival intentions and actions of Jay Gatsby, an alias as we now know. Though both men are rich, the irreconcilable chasm between the classes begins to take form with implications for any future relationship between Daisy and either man.
At the last of Gatsby's Saturday night parties, Tom and Daisy accept Gatsby's invitation to attend. Tom is unimpressed if not contemptuous towards the star-studded attendees. Following the departure of the guests, Gatsby desperately confides to Nick his fear that Daisy wasn't impressed, that she really didn't have much fun at the party. He is bewildered and a bit panicked that Daisy, for whom all of the parties were held to attract the attention of his former lover, simply doesn't understand anymore.
As an aside, those who've viewed the British television masterpieces, Upstairs, Downstairs and now, Downtown Abbey, have seen the dramatic change British class experienced after The Great War. In America, that disruption of class simply didn't happen during roughly the same period. As Gatsby is set in the decade before the Great Depression, we see that turn-of-the-century class rules have only become more ingrained in reality.
The discussion begins tonight, (Thursday), at 8:00 p.m. (EST).