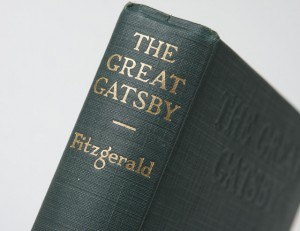 Though we're teased into believing that – finally – Gatsby will be revealed to his guests, and therefore, to his readers, at the Saturday night gala, the title character proves even more elusive. What is gradually uncloaked are some of the major themes of The Great Gatsby.
The previous chapter further cemented our views of Tom Buchanan as a cruel hypocrite which only serves as an oblique manner of building the growing sense of sympathy for Tom's fragile wife, Daisy.
In contrast to East Egg, the more prestigious of the two peninsulas, the valley of ashes through which the train into New York runs and where Tom's mistress, Myrtle Wilson and her husband live, appears under the gaze of Dr. T. J. Eckleburg – the subject of a large billboard near the Wilson's garage and upstairs quarters.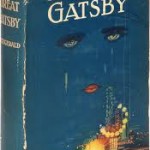 For those not familiar with the fascinating back story of The Great Gatsby's original dust-cover design, please enjoy this account of artist's rendering and how it – not the finished novel – helped shape an American classic.
Chapter 3 can be seen as a commentary on society during the several years immediately following The Great War.