To read without reflecting is like eating without digesting.  – Edmund Burke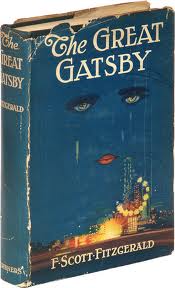 I'm looking forward to revisiting The Great Gatsby and I hope some of you will join me. As this book discussion will be online as opposed to persons sitting around a living room, a coffee house or a small room at the local library, accessibility will be the order of the day.
During the scheduled times, I'll be posting and responding on this site as well as hanging out on Google+, though my goal is to drive more traffic to this site.
Here's the schedule. Chapters 1-8 will be discussed between at 8:00 p.m. and conclude at 8:30 p.m. (EDT).
Thursday, September 13 – Chapter 1
Tuesday,  September 18 – Chapter 2
Thursday, September 20 – Chapter 3
Tuesday,  September 25 – Chapters 4 & 5
Thursday, September 27 – Chapter 6
Tuesday,  October  2      – Chapter 7     8:00 p.m. – 9:00 p.m. EST
Thursday, October 4       – Chapter 8
Saturday, October 6*        – Chapter 9  1:00 p.m. – 3:00 p.m.
* For those able to attend, the final discussion session will be broadcast from the Seelbach Hotel in Downtown Louisville. NOTE: Our planned visit may be cancelled due to schedule conflicts. Final determination will be made Tuesday night, October 2.
You still have plenty of time to pick up a copy of the book and knock out the twenty pages before Thursday night!