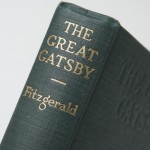 For Tuesday night's discussion of The Great Gatsby, chapter seven, I'm extending the regular half-hour scheduled time to a full hour. There's so much that happens in this chapter that even an hour will hardly be enough time to sift through not one, but two tumultuous events.
Many of us routinely linger for an extra fifteen minutes or so, but I want to be respectful of all participant's valuable time, so I hope everyone can accommodate the change in Tuesday's schedule.
General Housekeeping
I don't think that there can be any argument that the idea of concluding our online discussion of The Great Gatsby at Louisville's Seelbach Hotel, scene of Tom and Daisy's fateful wedding reception, was fun and ambitious. The reality, though, is that interest availability of participants to schedule a day trip on the 6th of October simply is problematic and quite understandable. Unless there is an expressed commitment by Tuesday night of four others, including guests, to meet at the Seelbach at 1:00 p.m. next Saturday, we'll omit that part of the discussion as impractical, although a swell idea. We'll still have our concluding episode of chapter nine, the final chapter, and a general wrap up of what's been a terrific experience certainly for me.