As a disclaimer, my views on this topic are my own and may not reflect those of The Levi Coffin House Association or the State of Indiana.
Interpreting the past, not the present.
Labors of love for an important story
Two weeks from today I'll be volunteering, as will every last volunteer we have, at the Levi Coffin House State Historic Site. At this time of the year, our all volunteer force is open only on Saturdays, which provides a much needed respite after a season of school groups, always busy 5-day week hours during the summer and not-all-infrequent special group tours made by arrangement – or unexpected requests from distant travelers.
Staying in focus
On the third week in September our average daily attendance increases roughly tenfold as the local town holds a "community festival" with very distant roots to the Coffin House's first several years as a state property. However, for the last forty years, the historic home of abolitionists Levi and Catherine Coffin has not been a beneficiary of the festival that continues to use the original owner's name despite no other connection whatsoever with the museum or the important story interpreted in the town's lone cultural destination.
Despite the taxing – no, overtaxing – of the volunteer force, I think it's more than safe to say that, when it comes down to it, all of us focus on the story to be told and the genuine interests our guests have in that story.
Transcending contemporary geography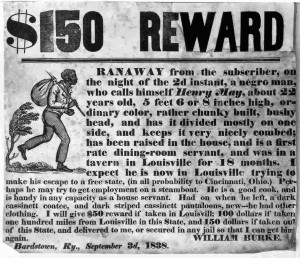 Levi and Catherine, both of whom provided both as man and wife and as two strong individuals remarkable contributions to the cause of freedom, did so at a time when being an abolitionist was dangerous, both physically and financially. Their story and those of the Freedom Seekers who bravely resisted bondage and the violence of bigotry is a story that transcends local geography and local contemporary customs and attitudes.
Two weeks from now, much focus will be on events that have nothing to do with the harrowing efforts of the enslaved risking life and limb to live in freedom. In fact, most years, Confederate battle flags and garage sale items with less than noble themes will be sold within strolling distance from the 1839 "station." Its for this reason that we should all remind ourselves that the story told about this chapter in American History has nothing to do with what goes on beyond the Coffin House's walls. Attempts tying this legacy to a community that has little meaningful regard for the values honored at the museum is self defeating and a distraction from what really matters.