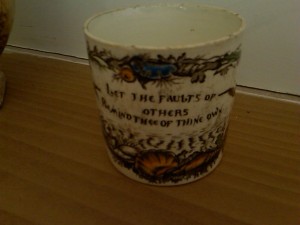 Officially, I've been a volunteer guide at the Levi Coffin House State Historical Site since 1974. I tagged along with my mother who was one of the original guides for the site and then our Scout Troop began diligently manning one or two rooms as docents of which I was a regular volunteer. The house has many memories for me, some that come to mind when related topics randomly pop up.
My Mom actually grew up in the house, her family owning the historic structure until 1966 when it was sold to the state. In the years just prior to then, as a very young fellow, I played in the house then occupied by my favorite cousins and my aunt, my mom's sister, Nancy (Aunt Mimi), who also was reared in the house, and Uncle Bill. At that time, a wooden addition still remained that originally served to provide several rooms and an upstairs bathroom. I recall the brass numbers still affixed to the doors though my other memories, those of a six-year-old, are cloudy and unreliable.
The restoration of the home saw the removal of the 20th century additions and all items not from the 1839-1846 period in which Levi and Catherine Coffin, Quaker abolitionists, resided in the home they built until their inauspicious departure to Cincinnati after living there only seven years. Today, the home is furnished with period pieces, only a couple of which actually belonged to the Coffins, but items that represent the types of furnishings one might expect in such a home at that time in history. Of the many items, some with great financial value, my personal favorite is a simple cup with what is also a favorite saying. I often think of the cup and it's message when I'm enjoying my morning cup of coffee.
I've heard anecdotes of how one can date an antique tea cup by the presence or absence of a handle. Among these tales is the reliable note of how tea, and later coffee, (though I don't know when the Americanization of hot, caffeinated, morning drinks occurred), was first poured into the cup and then re-poured into a concave saucer for cooling and consumption. The date I've heard most often for the regular appearance of a handle is 1835 and then, so the versions attest, the handle's prime utility was to help control the pouring of the hot beverage into the saucer. Any firm research on this matter is appreciated.
Given my own strong, often vituperative opinions of some others, it's funny, even quaint in ways that I find such a fondness for the delicate china cup now safely displayed atop a cupboard in the home's front or sewing room. Though not specific to any one denomination, or for that matter, religion, the cup's inscription speaks to me.
     Let the faults of others remind they of thine own.
The house's original owner, Levi, was himself a terror to many of his neighbors, given to publicly scolding those whose views, actions – or more-often than not – hesitancy to act boldly, were contrary to his zealous views of right and wrong. Perhaps the message of self-reflection helped moderate the illustrious President of the Underground Railroad, highly unpopular among most of his fellow townsfolk, many of whom didn't like slavery as an institution, but were mighty slow to accept the notion of emancipation. Probably not.
Maybe my love of finely prepared, freshly ground coffee beans rendered as brew has more to do with my attachment to the cup than does its theme of meekness. In any case, I'm drawn to the artifact that causes me to seriously think of what drink or drinks it held and by whom. I'm not particularly interested in and certainly not knowledgeable of antiques, but this particular antique awakens in me something I can't quite identify, but something that draws me back in time while seeming quite relevant to my life today.