August 21, 1831 seldom receives much national publicity. The date seldom triggers responses from even ardent students of antebellum history the way April 15, June 6, and November 22 awakens the memories of U.S. History fans. Even among followers of African-Americans history and those who keep alive the messages from the long civil rights struggle, the date of Nat Turner's bloody slave revolt often passes with no recognition despite the staggering ripple effect triggered by news of the killings.
This month, I invite readers to understand, to reflect upon and to discuss the implications of this grossly under-appreciated historic milestone.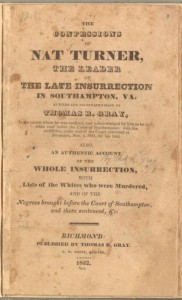 Next week, I'll provide an interpretation of how Nat Turner's Revolt altered forever the Underground Railroad in Indiana.