Historical sites road trip – continued
My themed road trip to historical sites near my childhood home had two goals. One was visiting three specific locations, the Richmond Art Museum, the Model T Museum and the main focus of today's post, the site of the 1791 Battle of the Wabash, or St. Clair's Defeat. My second goal was to use my new camera to record images for a long-overdue interview with Pam Bliss, whose mural subjects make accessible local history of national significance. I'll end today's post briefly touching on my secondary objective as I want to emphasize, for now, what I believe to be America's most neglected historic event.
On the road to Fort Recovery
Originally planned as my road trip's first destination, the Fort Recovery (Ohio) State Museum, is roughly an hour and half drive east northeast from my home in Indianapolis. My plan was to depart as soon as my new camera arrived, drive past Anderson and Muncie and then through Portland, Indiana, across the border into Ohio to the town of Fort Recovery, another twenty minutes distant. I'm nothing if not flexible, so when the mail ran later than usual, I opted for the fairly straight route past Fountain City, Indiana to my family home where I'd enjoy a Pizza King Royal Feast with Mom & Dad.
On the last day of my excursion, I headed north from M & D's, taking a two lane country highway that gradually crossed from Indiana into Ohio at Union City, a moderately sized town through which the state line runs. Had my recollection of where Fort Jefferson been more accurate, I would have begun my northern trek beginning after a short drive into Ohio until I intersected State Road 121, traveling up the route taken by Miami hunters, and later, the first units of the United States Army as it existed in the early to mid-1790s. At what is now Greenville, Ohio, the route veered slightly to the west, joining the actual final leg of my ride to Fort Recovery on State Route 49.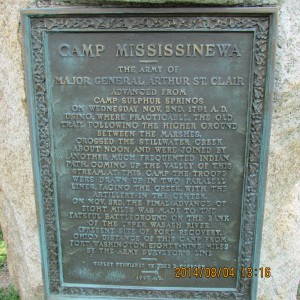 Less than ten minutes drive from Fort Recovery, I passed a brass plaque mounted on a stone sitting off the road in someone's front yard. I made a U-turn, returning to the marker, correctly guessing its content had something to do with my destination.
Not only did I learn about the existence of Camps Mississinewa and Sulphur Springs, but I learned to, in the future, turn of the time stamp feature on my camera.
Subsequent research reveals markers at the site of Camp Sulphur Springs, a later camp used by General Mad Anthony Wayne, as well as one marking the historical headwaters of the Wabash River
The site of two bloody battles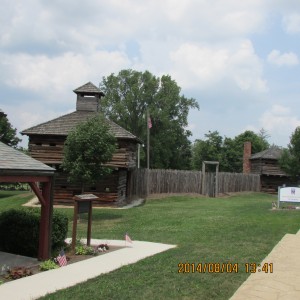 I'd been to the Fort Recovery Museum nearly a decade ago when state budget priorities were threatening to close the site. I was pleased to observe upon my arrival a notable improvement in the overall atmosphere of the site since my last visit.
Though fairly small as museums go, the interpretation of the two battles fought on the site, one in '91 and the other three years later, was thorough. I purchased several items from souvenir section, including some modern made arrow heads and a pair of faux coon skin caps, (with real raccoon tails), for my granddaughters in Arizona, as well as a map of Native American villages in Ohio and Indiana and a small book, Wabash 1791 by Columbus, Ohio attorney, John Winkler featuring well done illustrations by Peter Dennis.
On the grounds of the museum is a replica of two of the blockhouses that made up the actual fort as in Fort Recovery. It was here that elements of General Wayne's Legion of the United States, organized after General Arthur St. Clair's loss of more than 650 regulars and militiamen and nearly all of 200 civilian camp followers, cooks, wives, tradesmen and children, including infants. This second battle was a decisive victory for the American Army, made possible in part to a frontal assault on a fortified position by the Miami, Shawnee and other Native Americans. It is reported that Little Turtle vowed never again to fight the white soldiers following the Battle of Fort Recovery. But it was this first fight, an unqualified massacre, that was the main focus of my visit.
Following the bones on my way back home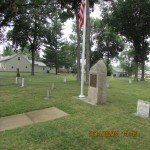 I asked the docent, a fellow teacher from Winchester, Indiana, where so many bodies would have been buried. He referred me to a pioneer cemetery I'd passed on my way to the museum and to the towering obelisk located in the center of town. Again, from subsequent reading I learned that the fascinating, scandalous character of then Lieutenant-Colonel James Wilkinson was dispatched in early 1792 from Fort Washington, in present day Cincinnati, to lead a column of soldiers back to the site of the battle for the main purpose of burying the remains of the whites.
With snow still covering the bodies, those whites that could be located in a battleground that covered many acres were buried in two mass graves, one apparently located where the pioneer cemetery was later created.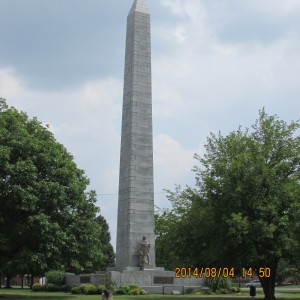 In what sounds like a macabre act of honor by the good citizens of Fort Recovery, Bone Burying Day commenced in September of 1851 after local boys began discovering bones that had not been interred by Wilkinson's men. The remains, by then long scattered by scavenging wildlife were, gathered in a dramatic and well attended ceremony and buried at the pioneer cemetery where they remained for forty years. In 1791, the remains were exhumed and relocated to the memorial park in the center of town. Twenty-one years later, when Congress commissioned and had built in 1913 a memorial to the soldiers and militia who died during both battles fought near the site. No mention of the Native American dead is noted at park.
Once you've literally seen where the skeletons are hidden, it's time to go home. My venture was rewarding and rekindled an already warm sense of curiosity as to the rich history that has captured my interest since I was a boy.
NOTE: Click HERE to read the companion post regarding the campaigns of the early 1790s in the Northwest Territory.