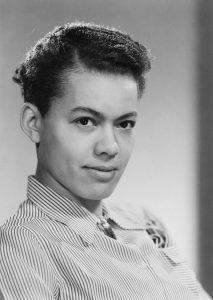 While we know Rosa Parks wasn't the first African American woman who refused to surrender her bus seat as dictated by Jim Crow, most have never heard of Pauli Murray. More than twenty years before Claudette Colvin, inspired by stories of other women of color who fought for civil rights, was arrested for violating the law on a public bus, an exceptionally bright young woman and her companion stayed right where they were seated until they were arrested. The year was 1940 and the date, March 23.
While her arrest drew little attention at the time, it helped inspire the bright Murray to pursue a career in law. However, to describe Pauli Murray by ascribing her accomplishments to one discipline would be to miss the essence of her remarkable life.
The civil rights lawyer fought against the laws and traditions that kept African Americans from enjoying the rights guaranteed in the Constitution but ignored in fact, however, she often did so from what we'd call a feminist perspective. She is credited with leading the fight against Jane Crow, a legal theory explaining how Jim Crow laws also discriminated against women in ways different, but every bit as damaging for females as it was for males.
That one of her many acts of defiance against injustice has its anniversary during Women's History Month is a fitting coincidence. Her name, however, seems deserving of recognition among the great leaders knew and influenced during her lifetime.